It's b-b-b-belt day, here at A Day in the Life Too...! Thanks to this q
uestion from Emily:
Can I wear a belt like
that
, on the outside of shirts and sweaters, when I DON'T have such a trim waist? I'd like to try it, but I'm afraid to draw any attention to my waist. Can it work?
Disclaimer: I'm no expert. But this'll be short, so...you're getting your money's worth. Which is a scary thing when "your money's worth" = $free$. But still. Here we go.
People can be very creative with belts. I'm fairly conservative, myself. The way I see it, a person has three main places to wear a belt: low waist/hips, waist, upper waist/high. The best place to wear a belt depends on (a) body type, (b) outfit, (c) belt width, and (d) belt style/color. Here are three examples of variations: wide belt worn lower, medium-width belt worn pretty much at the waist, and a skinny belt worn at the upper waist (although I've worn belts an inch or two higher up than this).
I'm 5'8" and have a rectangular build. My favorite belted looks for a boxy body type are a skinny/medium belt around mid-torso (creates the illusion of a waist) or a wider belt at the lower waist/hips (draws some attention to the place where hips should be).
For people who are curvier, belts are still great. A wide belt, mid-waist, can make your waist/stomach look slimmer (my research shows that matte belts, like leather, and darker colored ones are better for this kind of thing). (But you should experiment with lots of different widths/finishes/styles because it's fun AND helpful.)

And I read [Editor's note: Online, so it has to be accurate, right guys?...guys?...], although I have yet to try, that a belt with a different fastening (like one that widens or narrows) than the rest of the belt enhances the appearance of slimness. Hello. Yes, please.

Another good strategy is to wear belts lower on your torso or hips--even if you feel like you have a tummy. A wider belt is recommended, and it helps if the shirt/top you're wearing isn't skin tight. As in, you don't need to belt your bathing suit. [Editor's note: Told you you'd get your money's worth here...] If your shirt blouses out just a bit over the belt, all the better! Allsofasudden our "winter survival kits" (as I lovingly call my own tummy layers) look like thin air under a bloused shirt. Which is a beautiful thing.
Below are some thumbs-up beltage photos from cute bloggers who, in my opinion, know how to dress their bodies and use belts to flatter. I hope it's okay with them that I use them for examples. Heh. (Don't worry, I got approval for three of the four. And I'll send an apology gift to the fourth if she's mad at me.) Thanks again, ladies--fabulous beltage.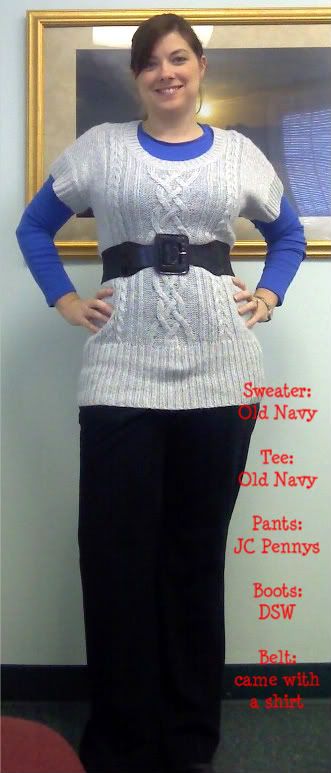 (Photo 3:
Life According to Sherry
) (Photo 4: all about aj)

So, that about wraps up my general thoughts on belting. Ooh, except if you're super thin: You should probably stick with proportionate belts (i.e., skinny belts, or medium width at the most), and you could probably wear them with anything and anywhere on your body and you'd still look minute. So. Good for you. And good for me for creating an enormous pile of candy wrappers right next to me as I type this... Dah well. A little tooth decay never hurt anyone, right? Right.